Mount Zion, Jerusalem
Mount Zion (Har Zion) takes its name from the site of the Jebusite city captured by King David (Samuel II, 5:6-9). The current site, on the border of the Old City of Jerusalem, acquired the name in the fourth century, either because of a misreading of the original Biblical text or because of a new interpretation of the text.

One of the sites worth visiting on Mount Zion is the Church and Monastery of the Dormition. It is the traditional site where the Virgin Mary fell into her eternal sleep.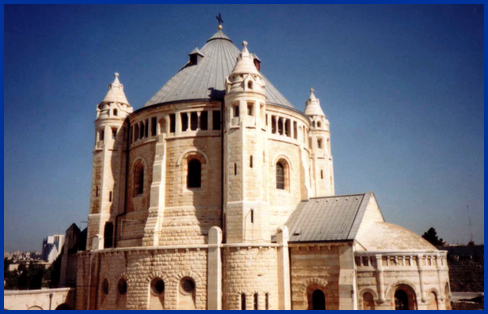 Dormition, Jerusalem


The Dormition was built in Romanesque style in the early 1900s (1901-1910) by the German Catholic Society of the Holy Land. Today it is owned by the German Benedictine order.

Another holy site on Mount Zion is the Church of St. Mary, originally built by the Crusaders in the 12th century. It has, however, been significantly renovated over the centuries. The Church of St. Mary has been associated with the Last Supper since the 6th century.

Mount Zion often has visitors from all over the world and, if you are lucky, you might get greeted by a smiling camel.