Schonbrunn Palace
Schonbrunn Palace is constructed on a site that dates back to the Middle Ages. The land and original palace were owned at the beginning of the 14th century by the monastery at Klosterneuburg. The palace was originally named Katterburg.

In 1569, the Habsburgs, under Maximillian II, gained possession of the property which, at that time, included a house, stables and a pleasure garden and orchard. The area was filled with birds, ducks, deer, and wild boar.

Schonbrunn Palace was handed down from Maximillian to Rudolph II who then passed it on to Emperor Matthias who used the grounds for hunting. According to a legend, the name Schonbrunn comes from the time when, in 1612, Matthias was hunting and he came upon a spring of water (Schone Brunnen, or fair spring).




Emperor Ferdinand II succeeded Matthias and he, too, used the grounds for hunting. In 1642, after Ferdinand died, his widow built a chateau and named it Schonbrunn.

In 1686, Emperor Leopold I was in control of Schonbrunn and he decided to build a new home for his son, Joseph. By 1701, the central section of the palace was completed. However, the rest of the palace remained uncompleted until the reign of Maria Theresa.

From 1742-1749, Schonbrunn Palace was reconstructed and today's palace dates back to that time.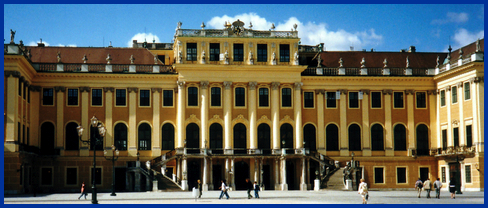 After the death of Maria Theresa, Schonbrunn Palace remained unoccupied and it fell into disrepair. Renovations were made to it in 1817 and 1819 and it then became the summer residence of the Habsburgs. Franz Joseph particularly loved Schonbrunn and he lived there from 1848 until his death in 1916.


The Gloriette is a small building located on a hill 60 meters high, overlooking Schonbrunn Palace. It was built in 1775 and it commemorates the Battle of Kolin in 1757.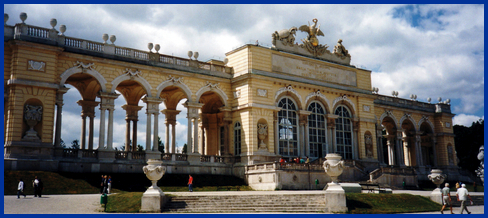 The gardens at Schonbrunn are magnificent Baroque and English style gardens that cover 3/4 of a square mile between Schonbrunn Palace and the Gloriette. In addition to the gardens, Schonbrunn is home to the oldest existing zoo in the world, dating from 1752 and housing over 750 species of animals.




In 1996, UNESCO named Schonbrunn Palace as a World Cultural Heritage site. Included in the site are the palace and gardens and the zoo.