Stephansdom Cathedral
The Stephansdom is a magnificent church, begun in the 12th century. It is breathtakingly beautiful with its glazed tiled roof. The church buildings cover an area of over 37,000 square feet and the Stephansdom is 350 feet long and 128 feet wide. The tallest spire is 450 feet high. The Stephansdom is a beautiful mixture of Romanesque and Gothic sculpture.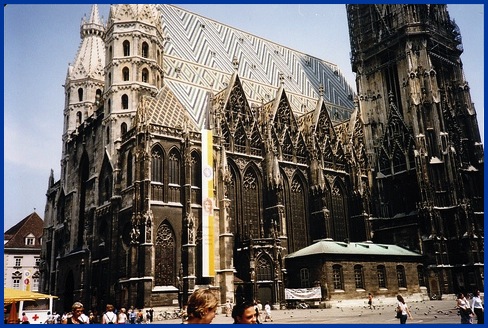 View of the Stephansdom's magnificent roof


The only remaining parts of the church from the 12th and 13th centuries are the massive gate and Heathen Towers. Different sections of the Stephansdom were completed in different centuries: the Chapels of St. Elgius, St. Tirna and St. Catherine were completed in the 14th century; the south tower, nave and the Chapel of St. Barbara in the 15th century; the north tower roof in the 16th century. The roof is made of 230,000 glazed tiles and it is 361 feet long and stands 200 feet above the ground.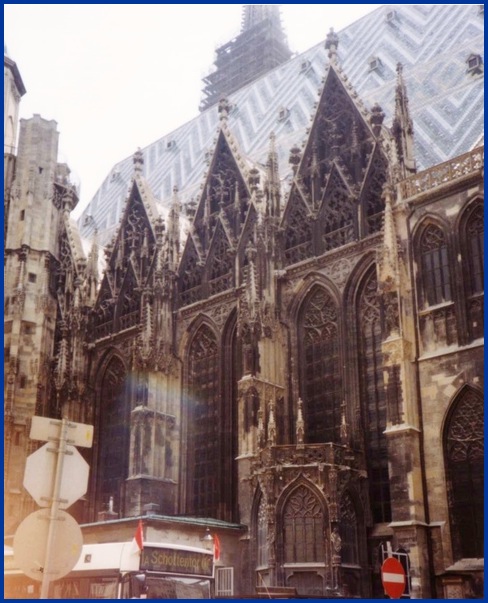 Side view of the Stephansdom


Sections of the Stephansdom were destroyed during and after World War II and the church was reconstructed and restored from 1948 to 1962. Today the greatest danger to the Stephansdom is pollution since the exterior of the church can only be cleaned with soft brushes and pure water.