Antwerp
Antwerp, with a population of around 500,000 people, is the second largest city in Belgium and the second largest harbor in Western Europe. It is located on the River Scheldt.

Most of the architectural sites in Antwerp date from the 16th and 17th centuries, but Antwerp was probably first inhabited in the second and third centuries.

Antwerp's role as a center of commerce goes back to the early 14th century when it played an important role in Western European trade. However, in 1585, Antwerp was conquered by King Philip II of Spain and he closed the River Scheldt to trade. Many of the financiers and intellectual elite of Antwerp fled the city and the population of the city dropped from 100,000 in 1570 to only around 40,000 by 1590. The River Scheldt remained closed until the 19th century (1863).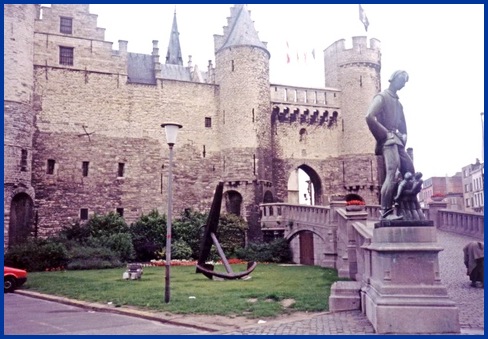 One of the sightseeing highlights of Antwerp is the Steen Castle. It was built as a fort, probably in the 13th century. It has been renovated many times and has been used as a prison (1549-1823), archeological museum (1862-1952) and home of the National Navigation Museum (1952-present).